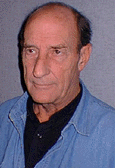 Campbell Lane  (July 15, 1935 – January 30, 2014), also known as Cam Lane was an actor born in Canada, represented by Lucas Talent, Inc. agency. He played in several television shows, such as The X Files, MacGyver and The Collector. His last roles on the silver screen were Scary Movie 4 (2006), Dreamcatcher (2003), and Mr. Rice's Secret (2000). He also performed several voice acting roles in Beast Wars: Transformers (Predacon Rampage), X-Men: Evolution, and Babylon 5: The Legend of the Rangers. In the Battlestar Galactica special two hour episode "Razor", released 24 November 2007, Campbell Lane played the Hybrid. In the Homeworld series Campbell Lane voiced the Bentusi and did the narration for all three games.
Following a battle with lung cancer, he passed away on January 30, 2014.
Ad blocker interference detected!
Wikia is a free-to-use site that makes money from advertising. We have a modified experience for viewers using ad blockers

Wikia is not accessible if you've made further modifications. Remove the custom ad blocker rule(s) and the page will load as expected.