Fiirkan-class Scout
Talk

0
619pages on
this wiki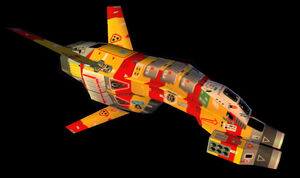 Fiirkan-class Scout
Classification and cost
Technical specifications
| | |
| --- | --- |
| Max. acceleration | 1000 m/s2 |
| | |
| --- | --- |
| Other systems | |
Usage
The Fiirkan-class Scout, as codenamed by Kushan Fleet Intelligence, were always the first fighters into a battle, making reconnaissance on enemy positions. The Fiirkans, who possess not only great agility but fairly decent firepower, were often a foreshadowing of events to come and when the Taiidan Empire's enemies saw a Fiirkan approaching, they knew the end was near.
Named for a small bird of prey in the deserts of Kharak, the Fiirkan, like its namesake, mostly preys on the herbivores of space, such as resource collectors, using its mobility to get the better of its prey, diving in and out in hit and run strikes. Armed with two small Mass Drivers, the Fiirkan is more than a match for any non-combat vessel and while using evasive maneuvers for even a super capital in large numbers. Many a fleet has fallen to the Fiirkan for underestimating their power.
Most pilots prefer the flashier Triikor-class Interceptor used by the elite core of the Taiidan pilots. Even so, those pilots who do choose to fly Fiirkans willingly are some of the best the Imperial Fleet has got and these "small birds" often show their hotshot comrades in the seat of Triikor that bigger guns doesn't necessarily mean better pilots.
Appearances
Edit
External links
Edit
Taiidan Strike Craft during Homeworld Era