Featured Article
Sajuuk's Wrath was the Hiigaran flagship circa 3000 BHL, and the first Far Jump capable ship in Hiigaran possession. The Hiigaran Empire assembled their whole navy around Sajuuk's Wrath and, deftly showing mastery over the Far Jump, pulled the entire navy, in one leap, far beyond the heavily fortified border regions of Taiidan Empire
Ship of the Day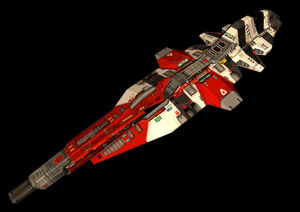 Random Tips
TIP: you can check all articles about Homeworld Soundtracks by going to article about any of them, and then clicking the link to topic you are interested in at Homeworld Series Soundtracks Navigation box at the bottom of the page.
Strategy Games
Go to these sites for info or for help with your own wiki!
Age of Empires • Battle Brothers • Bloons • Bomberman • Boom Beach • Castle Clash • Civilization • Clash of Clans • Command & Conquer • Company of Heroes • Dawn of War • Dungeon Keeper • Edain • Fire Emblem • Homeworld • KanColle • Legion TD 2 • Plants vs. Zombies • StarCraft • Total War • Victory Belles • Wargame • Warhammer Fantasy • We Happy Few • Worms
Want your community included? See how!