Featured Article

Homeworld: Cataclysm, often simply known as Cataclysm is the so-called "expansion sequel" or "stand-alone expansion pack" to the 1999 best-seller and award-winning Homeworld. Despite initial disappointment Cataclysm introduced many gameplay elements later used in Homeworld 2, the first true sequel and the third installment in the canon Homeworld universe.
Ship of the Day
Random Tips
TIP: you can check all articles about Homeworld Soundtracks by going to article about any of them, and then clicking the link to topic you are interested in at Homeworld Series Soundtracks Navigation box at the bottom of the page.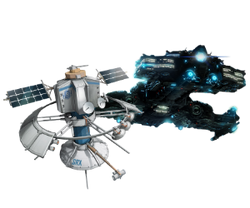 Strategy Games
Go to these sites for info or for help with your own wiki!
Age of Empires • ARK: Survival Evolved • Atlas Reactor • Bedlam • Bomberman • Boom Beach • Castle Clash • Civilization • Clash of Clans • Command & Conquer • Company of Heroes • Dawn of Gods • Dawn of War • Deception • Dungeon Keeper • Edain • Fire Emblem • The Flame in the Flood • Hero Defense • Homeworld • Insaniquarium • KanColle • Legion TD 2 • Plants vs. Zombies • StarCraft • Total War • Victory Belles • Wargame • We Happy Few • Worms
Want your community included? See how!

Ad blocker interference detected!
Wikia is a free-to-use site that makes money from advertising. We have a modified experience for viewers using ad blockers

Wikia is not accessible if you've made further modifications. Remove the custom ad blocker rule(s) and the page will load as expected.