Qwaar-Jet-class Heavy Cruiser
Talk

0
619pages on
this wiki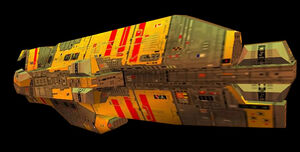 Qwaar-Jet-class Heavy Cruiser
Classification and cost
Technical specifications
| | |
| --- | --- |
| Max. acceleration | 39 m/s2 |
Usage
Qwaar-Jet was the name given to the Kushan God of Pain and Enslavement, who in ancient times was feared throughout Kharak. It was only fitting that the Kushan's greatest enemy on the battlefield would be named as such by Fleet Intelligence.
Feared as the terror of the stars at their height, these heavy warships could obliterate entire Star Systems. They finally met their match, however, when the Kushan managed to develop the Avatar-class Heavy Cruiser, and later the Archangel-class Dreanought fielded by Kiith Somtaaw. Even so, in the aftermath of the Taiidan Civil War the warship has lost none of its reputation.
The Qwaar-Jet packs an extremely lethal punch and its four Ion Cannons turrets have unheard-of coverage, able to strike multiple targets at once, unlike smaller vessels who must concentrate their fire on one enemy at a time. This is backed up by the heavy cruiser's 6 large Assault-class mass drivers. All this allows the Qwaar-Jet to engage its enemies even as it maneuvers about. And although the super-capital ship has difficulty targeting and destroying small fighters its heavy armor allows it to endure damage from wings of bombers for extended periods of time.
At the time of the Beast War, the remaining Qwaar-Jets in Imperialist hands tended to operate in pairs, upgraded with Energy Cannons and reinforced armor, along with Turanic Raiders, from hidden starbases throughout the galaxy. These pairs were often used to punch through the defenses surrounding enemy carriers, allowing the Imperialist fleet to destroy the carriers. Prior to the Beast War it was unclear whether this tactic was part of a war of attrition and desperation or the prelude to a new surge of Imperialist aggression. In any case, the events of the Beast War would delay any Imperialist comeback.
The Taiidan Republic Mod introduced the Qwaar-Jet II. In the decades that followed the Beast War the Imperialists realized they would have to update their decadent, ancient technology. The Taiidan Republic and Hiigarans were moving further and further ahead. However, the scattered Imperialists did not have the resources until their alliance with the Vaygr to create an entirely new class, so instead they refitted the old but effective Qwaar-Jet. The new version included several new weapons, most notable being a new Point Defense System similar to that used on modern battlecruisers.
In Norsehound's continuity of writing, the Qwaar-Jet is identified as a Type-52 Heavy Cruiser, following Norse's aversion to using Hiigaran code-names for Imperial craft.
Taiidan Capital Ships during Homeworld Era