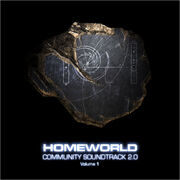 The Relic Community has created a Homeworld Soundtrack based on in-game files extracted from the HW_Music.wxd archive. It is unofficial, and distributed only by Homeworld fans, as same as the Homeworld: Cataclysm Soundtrack and the Homeworld 2 Soundtrack.
The Soundtrack currently tracked on the community tracker is not this listing. This listing is the Homeworld Community Soundtrack 2.0.
Also available for download Nutritious' are two remixes Deep Space (from the Bridge of Sighs), and The Fallen (from the Gardens and Cathedral of Kadesh). File times may vary by seconds depending on decoding software.
This soundtrack was compiled using Penesound and Winamp 5.5. All music was composed by Paul Ruskay, except for The Ladder by Yes, and excerpts of Adagio for Strings (Agnus Dei), composed by Samuel Barber and performed by Quire of Voyces.
External Links
Edit
Kapyrna's post on the RelicNews Forums
Download the complete re-vamp package here.
Filefront Hosted by ORCACommander
Ad blocker interference detected!
Wikia is a free-to-use site that makes money from advertising. We have a modified experience for viewers using ad blockers

Wikia is not accessible if you've made further modifications. Remove the custom ad blocker rule(s) and the page will load as expected.