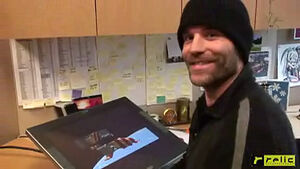 Rob Cunningham is Director of Concept and Visualization, co-founder of Relic Entertainment and Blackbird Interactive. He graduated Rhode Island School of Design and later become teacher in Vancouver Film School and DigiPen Institute of Technology. Worked as an Art Director in both Homeworld and Homeworld 2 games. Cooperated with eatART after leaving Relic. In 2011 he was one of Blackbird Interactive founders, working on the game initially called Hardware, renamed to Homeworld: Shipbreakers in 2013.
External Links
Edit
Ad blocker interference detected!
Wikia is a free-to-use site that makes money from advertising. We have a modified experience for viewers using ad blockers

Wikia is not accessible if you've made further modifications. Remove the custom ad blocker rule(s) and the page will load as expected.