Taiidan Heavy Corvette
Talk

0
599pages on
this wiki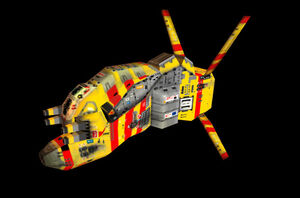 Taiidan Heavy Corvette
Classification and cost
Technical specifications
| | |
| --- | --- |
| Max. acceleration | 160 m/s2 |
Usage
The Taiidan heavy corvette, designed to be the ultimate strike craft killer possess four medium-sized mass drivers with which they can attack enemy strike craft with ease. The corvette, while too slow to take on assault frigates on their own often can take down other frigates and also possesses a "burst mode" that allows it to fire exploding shells onto incoming strike craft or slow capital ships.
After the Homeworld War, most of the outdated heavy corvettes were replaced by the more versatile multigun corvettes.
Appearances
Edit
An unarmed, ambassadorial version of this corvette exists if the game is played as the Taiidan. However, seeing as this version of events never truly happened, it is at best unknown if this variant exists in the true timeline.
External links
Edit
Taiidan Strike Craft during Homeworld Era