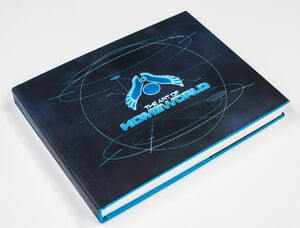 The Art of Homeworld is an artbook contain high quality prints of concept art from the Homeworld franchise. Originally, it was intended to be included in the Homeworld Remastered Collectors Edition, but wound up being sold separately. The book also includes commentary by the original artists.
Dimensions: 305 x 241mm
Pages: 236 pages
Paper Stock & Weight: 128gsm Harmony Natural White
Special Finishes: Debossed Silver foil
Dustjacket: N/A
ISBN: 9780985902247
Publication Date: February 2015
All Authors: Rob Cunningham and Aaron Kambeitz
References
Edit
Ad blocker interference detected!
Wikia is a free-to-use site that makes money from advertising. We have a modified experience for viewers using ad blockers

Wikia is not accessible if you've made further modifications. Remove the custom ad blocker rule(s) and the page will load as expected.